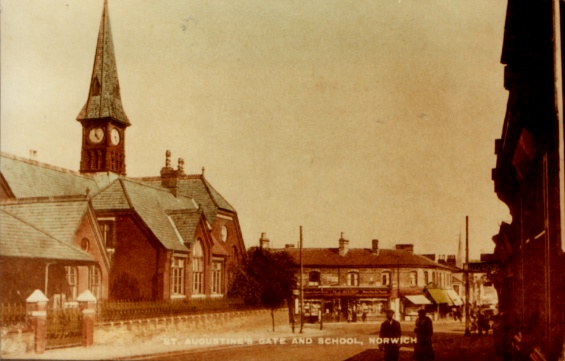 St Augustine's Gate area of Norwich
This colourised picture postcard, which was one of those sold by at the Post Office at 71a St Augustines Street, was probably taken in the late 1920 or early 1930s. The road tracks and overhead powerlines for the Norwich Electric Tramway Company's trams are not visible as they are in earlier photographs of the school, the last tram having rattled through this junction in 1925.

While St Augustine's School (left) is long gone, destroyed by enemy bombing in 1942, the buildings at St Augustine's Gate at the junction of five roads (St Augustines Street, Aylsham Road, Bakers Road, Waterloo Road and Magpie Road) are much the same today. The main shop seen here (middle foreground) was Bishops, a well-know Norwich shoe shop, which was still trading here in the 1990s. Its former premises are now occupied by a property letting agency. Note the spire of Norwich Cathedral in the distance.

For more information about St Augustine's School click here.
Photo courtesy Daphne Dennis