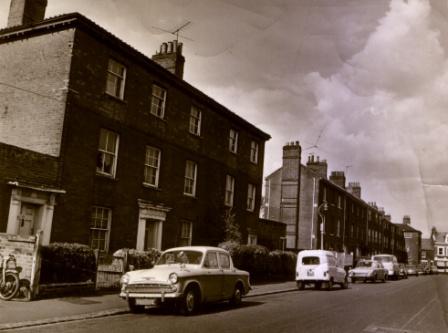 Sussex Street, Norwich, 1960s
View of the north side of Sussex Street looking east towards St Augustine's Street. These elegant, three-storey townhouses were probably built in the 1830s. Note that one block has bricked-up windows, a consequence of the Window Tax of 1696, which wasn't finally abolished until 1851.
By the late 1960s these dwellings had become rather dilapated. Fortunately, they were spared the fate of so many old buildings in the area and escaped demolition. The gaps in between the tenements were filled with new buildings, designed to have the same window line as the Georgian originals. The townhouses were sub-divided into self-contained flats with external stairwells at the rear. The buidings are now managed by Broadland Housing Association under the collective title of Howards Terrace.

Note the ghostly tracks of the Norwich Electric Tram Company's tram lines in the street.
The tram ceased to run through here in 1925 but on frostly mornings the line of its old tracks can still be glimpsed.
Photo coutesy Daphne Dennis