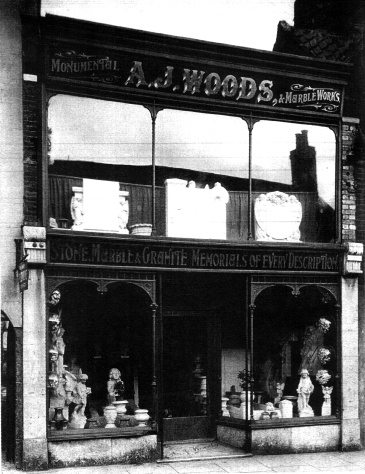 Wood's Monumental Masons, St Augustine's Street, Norwich, early 1920s
Arthur James Wood's business at 35 St Augustine's Street specialised in selling stone and marble funerary masonry such as headstones, urns, crosses, angels and cherubs. His manufacturing works were nearby in Sussex Street. A. J. Wood's were still in business in St Augustine's Street in the 1970s (see below) but now trade from premises in Dereham Road.
This suitably gothic-looking shop front is sadly long gone. The entrance to Delph's Yard can just be glimpsed on the left (it is still there today - as the vestibule to a hall corridor between two shops). William Delph was a plumber and glazier who traded here in the 1860s. He was also landlord of the Prince of Wales public house next door (now The Private Shop) as well as a church warden at St Augustine's church. Lines reflected in the upstairs shop window are possibly the overhead power lines of the electric tram that turned near here into Sussex Street. The tram ceased operation in 1925.
In the 1920s and 30s there seems to have been sufficient trade to sustain a second monumental mason in St Augustine's Street, that of Arthur William Hall at no. 55. His name can still just about be seen on a faded painted advertisement on the side of a house adjacent to Stonemason's Court.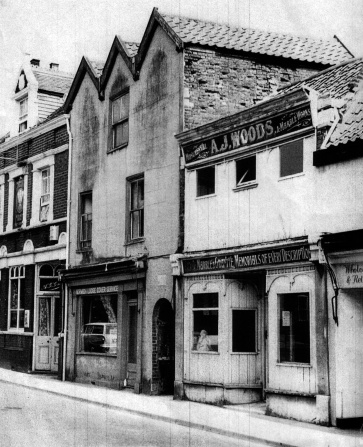 St Augustine's Street, 1960s
By the 1960s St Augustine's Street had already begun its long decline, which has not yet been reversed. On the right can just be glimpsed the entrance to Blake's butchers (now empty and semi-derelict), then from right to left A. J. Wood's monumental masons, the entrance to Delph Yard, Norwich Loose Cover Service (formerly R. J. Bales, fruiterers), the entrance to Prince of Wales Yard (which can still be seen today) and the Prince of Wales public house, which closed in 1969 and is now occupied by The Private Shop.