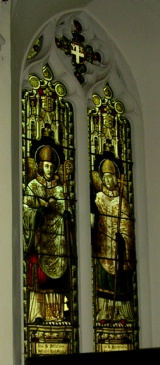 Saints Window, St Augustine's church, Norwich
This stained-glass window in the north chancel aisle of St Augustine's church in Norwich depicts St Augustine of Canterbury and St Felix of Dunwich, the recognised founders of the English Christian Church in, respectively, Kent and East Anglia. The stained glass was installed in 1902 when the church organ was not present, having been moved to
St Augustine's nearby sister church, St Mary's Coslany. The organ was re-installed in its present position in 1906 by a new rector, partially obscuring the window.

Although it is St Augustine of Canterbury who is depicted here, it is not at all certain that it was this St Augustine who was originally commemorated in the name of the church. A letter in Norwich Cathedral's archive from 1163 indicates that some time before that date the church was gifted to an Augustinian priory in Gloucester. The Augustinian Order of friars followed a Rule based on the teaching of St Augustine of Hippo, so it is possible that the Norman church that stood here in that period was named after him rather than the first archbishop of Canterbury. It is also worth noting that St Augustine's is the only pre-Reformation church in Norfolk with this name, which may indicate it was so named for a special reason.

Photo © S. J. McLaren, 2006