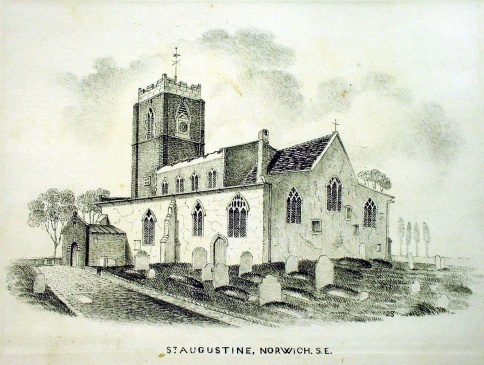 St Augustine's church, Norwich, by James Sillett, c.1828
Lithograph by Norwich artist James Sillett depicting St Augustine's church from the southeast. Something of the open, rural aspect of the area at that period can be glimpsed in Sillett's drawing. The church is seen here in its pre-restoration state, with discoloured and cracked cement rendering on the walls.

This is also practically the only detailed view we have of the churchyard before its headstones were removed or destroyed when it was made into a public garden in 1894. The trustworthiness of Sillett's depiction of the churchyard must, however, be doubted as none of the table tombs, some 18th-century, by the south chancel wall are shown.

Note the tall, narrow, brick stack rising above south chancel roof. It isn't known for certain what function this performed. It doesn't feature in Kirkpatrick's sketch of c.1713, though it does appear in a photograph taken in the 1870s. It did not survive major restoration work undertaken in the 1880s. It may be a chimney to carry away smoke from a small grate in the vestry or a private pew in the chancel near the Sanctuary, or it housed perhaps the Sanctus bell the church is recorded as once having had. There is no sign of this curious feature today.
Image courtesy Norwich Castle Museum and Art Gallery