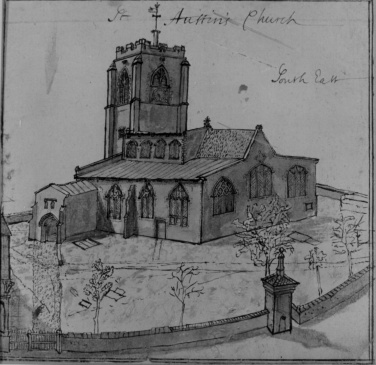 Sketch of St Augustine's Church by John Kirkpatrick, c.1713
This is the earliest known detailed depiction of St Augustine's church (known then as
St Austin's). Kirkpatrick was an antiquarian historian and not primarily an artist, which somewhat excuses his mistakes in perspective and architectural detail. Note, for example, that he forgot to draw a roof on the nave. His sketch does, however, contain several intriguing details. He depicts the church and churchyard from the southeast (much the most popular view of painters and photographers) and from an elevated position, so it may have been drawn in an upstairs room of a house across the street near the junction of Botolph Street and St Augustines Street.

Note the large kiosk-shaped structure in the foreground. This possibly housed the parish pump. The church porch appears to have two small windows above the entrance, indicating that the porch was once higher and probably contained a small attic room or 'parvis'. Although not clear in this image, the east face of the tower shows a clock face with the date 1687. The same date appears on the east-facing battlements of the tower. The date commemorates the completion of the new red brick tower, which replaced the old flint tower, which collapsed in 1677. On the extreme left can just be glimpsed some architectural details of a house that stood at this corner, now lost, and which once formed part of the row of 16th-century domestic dwellings that still stand here.
Courtesy Norfolk Museums Service