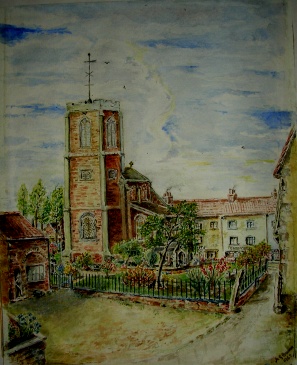 St Augustine's Church, Norwich, by A. G. Browne
This charming watercolour of the church, depicted from the southwest, is dated 1962. Nothing is known of the artist. The small building on the left with a figure standing in the doorway is thought to have been used by the church's sexton, who was employed by the parish to act as the church's caretaker, gravedigger and bell ringer. Derelict for many years it was converted into a residential dwelling in the 1990s.
The names of two of St Augustine's 19th-century sextons, a father and son both called John Goose, have come down to us in a curious memorial high up on the north face of the tower arch, where there is also a depiction of the church bells. John Goose senior died in 1816 and his son, who inherited his father's job, died in 1848. Both are buried in the churchyard they had helped maintain for more than fifty years.
Painting courtesy of Coleman Opticians