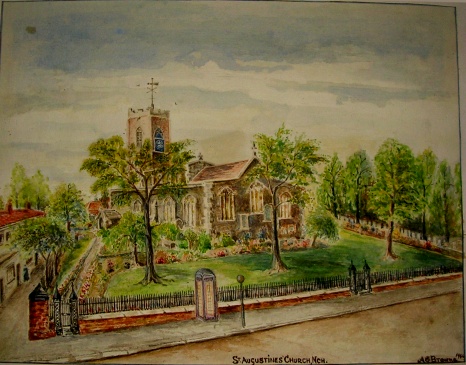 St Augustine's church, Norwich, by A. G. Browne
This watercolour study of St Augustine's church from the south east is dated 1946. Nothing is known of the artist other than than he or she painted two other local studies: another one of the church, from the south west, and one of the rear of De Carle's the Chemist's premises in Rose Yard. Interestingly, the view is one that one might get through one of the the upstairs windows above De Carle's premises (now Coleman Opticians) in St Augustine's Street.

The Victorian iron railings around the churchyard were removed during the Second World War and temporary replaced by a wooden picket fence seen here. This was later replaced by a privet hedge. The GPO telephone box in the foreground appears in same position, painted white, in a photograph taken at about this date and now preserved in the photographic collection of the Norfolk & Norwich Local Studies Library at the Forum in Norwich. The kiosk was later moved to the church alley on the left, where its modern successor stands today. The wrought iron entrance gate and gate pillars on the left are still there, though the second, smaller gate to the right no longer exists. The churchyard was once noted for its colourful flower beds, sadly cutbacks by the City Council over the decades have meant these could not be maintained to the same standard. Members of St Augustine's Community Together Residents' Association (SACTRA), Broadland Housing Association staff and children from the 31st Norwich Brownies troupe have tried to remedy this by participating in an annual spring bulb planting day in the churchyard each November.
Painting reproduced by courtesy of Coleman Opticians