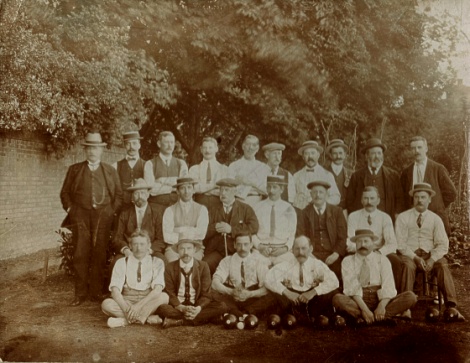 Gildencroft Bowls Club, early 1900s?
The Gildencroft recreation ground in St Augustine's, Norwich, was first opened to the public in 1892. A bowling green was laid at its west end and this survived until the early 1990s when the City Council decided it could no longer afford its upkeep.

The only gentleman in this group who has been positvely identified so far is Frederick Brooks (back row, 4th from left), grandfather of Mrs Phillip Armes. However, the gentleman sitting on the grass in the front row, far right, looks very much like William Drake, landlord of the Spread Eagle in the early 1900s (click here to see).
Records of the Gildencroft Bowls Club have not come to light, but a match report in the Eastern Daily Press dated 1 August 1913, provides a fleeting glimpse of the club in action almost exactly a year before the Grear War would change their lives and the lives of their families and communities forever:

"On Tuesday evening [29 July 1913] a match between members of the Eaton Ward
Liberals Association and the Gildencroft Club was played on the green of Mr G. E. White, Eaton House."

Making the most of their home advantage the Eaton Ward Liberals narrowly won the match.
The Gildencroft bowlers at this match were: Attwell, Thompson, Winter, Tinkler, Lightwing, Ward, Marshall, Muirhead, Pank, Manwaring, Scarlett and Moore.

Photo courtesy Mr & Mrs Phillip Armes