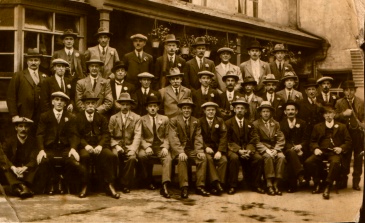 The Rose Inn Fishing Club
Photo taken at the rear of the Rose Inn, in Rose Yard off St Augustine's Street, Norwich, possibly in the 1920s or early 1930s, judging by the mens' style of clothing. From the look of their Sunday best suits and the flowers in their button holes, the assembled members of the "fishing club" weren't about to go angling along any muddy banks but were awaiting a charabang to transport them on their annual jolly.

This postition behind the old coaching inn entrance is still there today, little changed. The Rose Inn was one of the oldest pub's in Norwich. There was a inn on this spot in the 14th century but the pub, laterly known as The Old Crome, closed in the 1980s and has now been converted to flats and offices.