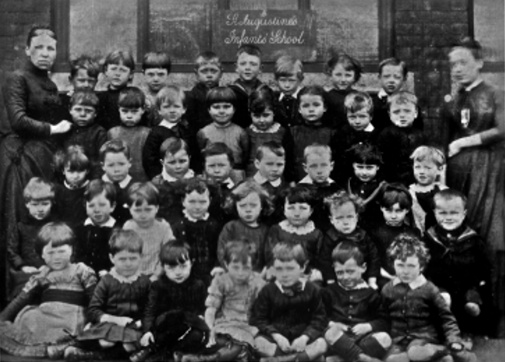 Pupils and staff of St Augustine's Infants' School, Norwich, 1880s
This is one of the earliest surviving photographs taken in the St Augustine's area. The children have clearly been dressed in their Sunday best, the boys wearing either sailor's suits, popularised by Queen Victoria's grandsons or the famous Norfolk jacket.

School log books, kept by successive headmistresses of St Augustine's Infants School, recording the names of staff, pupil numbers, school inspection visits, sickness and truancy for the period 1879-1942; and attendance registers recording children's names and dates of admission and leaving for the period 1886-1942 are preserved in the Norfolk Record Office. Copies are also available for viewing on microfilm at the Norfolk & Norwich Millennium Library in Norwich.