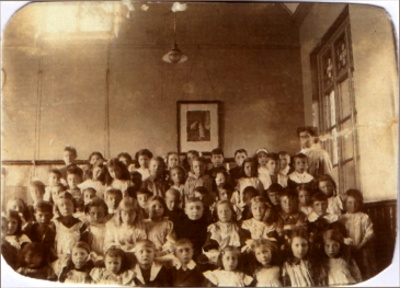 Teacher and pupils of St Augustine's infants class,
St Augustine's School, Norwich, c.1916
This photograph, taken during the First World War, is very rare indeed. It is the only one known of the inside of one of the school's classrooms. It shows a teacher and girls and boys of the infants class, which had the only mixed sex classes in St Augustine's School.

The School Log Book records that following the outbreak of war in August 1914 the Infants School's classrooms had to be moved away from the Aylsham Road side of the school site as the noise of passing military traffic was disrupting lessons. Following the introduction of conscription in 1916, almost all of these childrens' fathers would have been in the armed services. As the parish's war memorial testifies, many would never return home. The Log Book also records that the influenza pandemic of 1918-19 would take the lives of several of the school's pupils and teachers.
Photo courtesy Mrs Evelyn Anderson